Book a 15- or 30-minute chair or table massage with us
Corporations and businesses large and small contract with Body Benefits Massage for corporate massage services.  We work with you to determine if a weekly, biweekly or monthly contract is the best option for you.
Who provides corporate massage to their workers?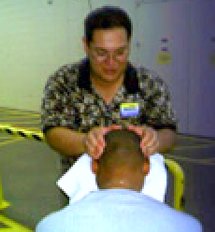 We have arranged corporate massage sessions for law firms, accounting firms, real estate businesses, Charles Schwab, Raytheon, University of Arizona (using our services for both students and faculty), medical and dental offices, hotels, resorts and many more. Some of these locations have made long-term agreements with our service, and have seen the benefits for everyone involved. This increases the productivity and happiness in your employees – you will see the benefits! Your company may choose to use it for incentive programs, or just to get through the daily demands. Corporate Massage is a a great bonus and a prevention to absenteeism. It is a advanced thinking in today's company trends.

We help individuals stay productive and less tense. Employee appreciate the mental break, and more often return to work rejuvenated. We have treated employees for problems and concerns of carpal tunnel syndrome, sciatica, TMJ, eye strain, cluster headaches, migraines, chronic neck and both upper and lower back problems. We can offer either table or chair massage, depending on what might best fit the accommodations provided. We have both licensed and insured male and female therapists available. We will be happy to service you with therapeutic massage today! If you would like to join those who take advantage of keeping themselves more relaxed while at work please contact us at 520 977-7483.
Body Benefits Massage and Raytheon
For the last 14 years Body Benefits Massage has worked with Raytheon to provide clothing-on table massage during the workday. We help hundreds of employees with stress relief and body aches due to work and life. All the therapists hired to work at Raytheon are licensed with a minimum of 1000 hours training.
Testimonials from workers benefiting from 
Raytheon
's corporate massage service
"I have experienced the pleasure of massage therapy with Body Benefits massage therapists for several years now and at different sites within Raytheon. Having had other massage therapy experiences that were not pleasurable (those that left bruises and left me feeling much worse than before the massage). I have come to realize the importance of a skilled therapeutic massage executed by professionals, trained individuals. The moment I lie down on the massage table, I feel better. They make the best out of the environment given (Team Rooms in different buildings) to make them as peaceful as possible, it's like taking a vacation from the stress of everyday life. Sometimes I talk and other times I am quiet, depending on the mood I am in. The therapists are able to use deep pressure on the areas that I need it, and lighter pressure on other areas. When they are working the knots out, it "hurts so good." Beyond their professionalism, I find that Body Benefits therapists truly care about each individual, their health and their circumstances - mind body and spirit. They are dedicated to their profession and are, simply stated one of the best!!!"
"Everyone at  Body Benefits is friendly, helpful and professional and they get the job done." –BC
"I have been suffering from migraines for the past 10 years, but this year, they started to happen more frequently. I began having 2-3 migraines a week, instead of the usual 2-3 times a month. I tried everything from different medications, to adjustments from my chiropractor and even acupuncture, but the migraines didn't subside. When I mentioned my problem to the medical department, they recommended massage therapy by Body Benefits. Going to Body Benefits has helped tremendously by reducing the frequency of my migraines. Shawn is a professional and concentrates on the problem areas. She doesn't just massage you, but teaches you techniques of pain management that you can do on your own. She has definitely improved the quality of my life!" –LS
"I have multiple sclerosis, which affects my ability to walk. I also have been having problems with the range of motion and pain in my shoulders. I had physical therapy on my left shoulder last year and a cortisone injection which restored my mobility and reduced pain in that shoulder. This year my right shoulder started having the same problem. On the recommendation of a friend, I tried Body Benefits Massage for my shoulder pain. My right shoulder is getting better from this massage faster than my left one did with physical therapy. This would be enough for me to recommend on site massage, but there was an unexpected additional benefit. My ability to walk and my stamina increased remarkably. I was so impressed with Shawn that I had her give my wife a massage. She also has shoulder problems which were greatly relieved. But where she got the greatest benefit was with a problem she has called trigger finger. This is a condition where her finger will lock painfully in a position similar to when you are pulling a trigger. Shawn knew how to work on this condition to give my wife the best relief from this she has ever had. I highly recommend Body Benefits Massage to anyone with physical problems." –GJ
"I am writing to express how happy I am with the Body Benefits experience here at Raytheon. I routine work in excess of 50 hours a week and I'm usually working under very stressful conditions. I didn't know how much my upper back and neck had tighten up until I took some time out of my busy schedule and signed-up for a message. The Massage Therapist who sees me in building 801 is Jennifer. She has a warm, open, and honest personality who spends time with me understanding my stress levels at work and where I'm feeling the most discomfort which is usually my right shoulder. Jennifer is well trained as a massage therapist. She knows the correct pressure points and deep tissue massages I need to loosen up the knots in my shoulders. I actually feel a little dizzy after Jennifer is done giving me a massage and she always reminds me to drink water. And I always feel more loose when I stretch my arms and lean my head after the massage. I have been seeing Jennifer for close to a year now and she always does an excellent job of making me feel physically and emotionally relaxed. I will continue to see Jennifer and I hope she will continue to do the Body Benefits program for a long time." –JZ
To hire qualified therapists to work at your office or corporation, please call our office at 520/290-9225.