Testimonials from clients we have helped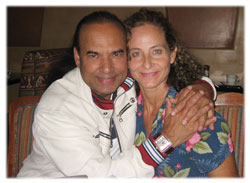 "I love massage. I get massage all the time and you really give a great massage."
– Bikram Choudhury (President of Bikram's Yoga College of India)
"Shawn has worked on me for one and a half years. I suffer from chronic daily tension headaches and migraines: bilateral. Some medications from Mayo clinic have not worked as well as her treatments. 50% of my pain is now gone. My left side is pain free. This is not a massage; I consider it PT. Shawn gives her complete attention to where you are hurting. I would strongly recommend her; she has helped me to live a life of less pain and that is great."
– Nancy Martinez - September 2010
"Shawn is the best massage therapist I have ever experienced and because she and I live in different cities and I only get to enjoy her massages occasionally, I have tried a number of other massage therapists over the years. Many have been decent but none compare to Shawn. She has spent over 20 years perfecting her technique. Recently I was signed up to race in a triathlon and a few days before the race my calf tightened up and was so sore that I could barely stand on my leg. I thought there was no way I would be able to race. I had a massage from Shawn on Friday night and by race day on Sunday morning it was fine. I had absolutely no tightness or soreness left, had a great race and have had no problems since (now nearly a month later)! It is no surprise that Shawn has done extensive work on professional athletes! She just has the expertise and natural talent of being able to find the spots that really need to be worked on. To anyone out there who has not tried Shawn- once you do you will see how great she is and no one else will compare!"
– Elizabeth Brehm 5/26/2010
 "Shawn Bates is a talented and knowledgeable massage therapist and her abilities result in a massage that is both relieving and restorative. I know that she has anatomic and therapeutic training over and above that required to be a massage therapist, and that is apparent in her work. Whether I've pulled a muscle exercising or I'm just tired from a day's work, Shawn invariably leaves me feeling refreshed and better. She is delightful and has been flexible in scheduling to meet my needs. Shawn was recommended by a friend who remarked that she was very unusual in both manner and treatment, and I remain grateful to him for sharing his good fortune."
– Palmer C. Evans, MD
 "Thanks for the awesome massage. My neck feels better than it has felt for a long time, years, in fact."
– Jill W.
 "She gives me a little bit of pain during the treatment, but WOW I really can feel the GAIN."
– Bob S.
 "Shawn's massage is very detail-oriented when she is doing neuromuscular therapy. She gets into little areas that make a BIG difference on how effective the treatment is. I am amazed at how she knows how to feel what is below the surface of the skin."   – Evelyn K.
 "It is a pleasure to write a recommendation for someone who is truly outstanding at their work, and Shawn Bates is such a person. I've had massages from many therapists, but Shawn Bates has both the most extensive knowledge of nerves, muscles, injuries, etc. and an incredible talent at putting that knowledge to use through her hands. I have an arthritis-like illness and Shawn has, time after time, treated pain and soreness giving me remarkable relief. There is simply no comparison between a massage with Shawn Bates and with anybody else I've encountered! Her combination of natural talent, caring and advanced education result in remarkable therapy far better than the usual massage."
– Sally Evans, RN, NP
 "I have enjoyed massage therapy by Shawn for almost 15 years. Shawn and I have gotten to know each other on a personal level during this time, yet her treatments always remain professional. I have had several opportunities to receive massage treatments by 4 or 5 other therapists over this period, and I can honestly say that there is no comparison for me. Shawn is truly an expert in her field. Where other therapists put in their time and complete a generic massage, Shawn goes out of her way to find out what the issue is and works hard to treat it. She is extremely knowledgeable about her work and communicates well what the problem is. Another nice touch is her follow up call after an especially difficult treatment. I have referred her to many friends and acquaintances, and have heard nothing but praises for her high quality of work. Go for it, you won't regret it!"
– K.P.
Body Benefits Massage Mobile Services can be tailored specifically to your needs so you are relaxed and feeling the benefits. Our Mobile Services provide stress reduction at the hands of qualified therapists in and around Tuscon. At your hotel or motel or for corporate needs, our accredited therapists specialize in deep tissue massage, Swedish massage, sports massage, lymphatic drainage and neuromuscular therapy.